Authorised Samsung Service Center - Tirumala Communications
MIG 230, 1st Floor, Housing Board Colony

Kukatpally

Hyderabad

-

500072

Above IDBI Bank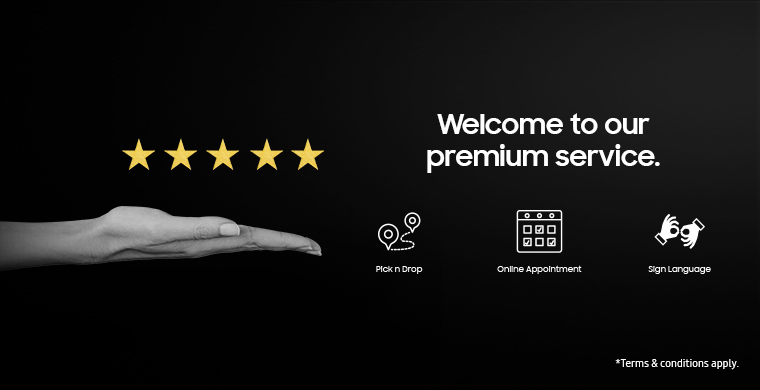 Latest From Samsung
About Authorised Samsung Service Center - Tirumala Communications
Samsung has India's largest service network expanding to over 3,000+ service points that supports its customers through digital platforms like Samsung.com website, Samsung Members app and dedicatedly offers contactless services like WhatsApp support, online service appointment booking as well as home pick and drop service for mobile phones.
The address of this service center is MIG 230, 1st Floor, Housing Board Colony, Above IDBI Bank, Kukatpally, Hyderabad, Telangana.
Tell us about your experience.
Scan this QR code to discover more with us.
Download QR
Click on QR code to enlarge.
Mon

10:00 AM - 08:00 PM

Tue

10:00 AM - 08:00 PM

Wed

10:00 AM - 08:00 PM

Thu

10:00 AM - 08:00 PM
Fri

10:00 AM - 08:00 PM

Sat

10:00 AM - 08:00 PM

Sun

Closed
View Service Centers by State/City
Get Direction To Samsung Service Centers
Cash

Cheque

Debit Card

Master Card

Visa
Mobile Phone Repair Shop
Phone Repair Service
Mobile Phone Accessory Shop
Repair Service
Mobile Service Center Near Me
Samsung Service Centre
Samsung Service Center Near Me
Mobile Repair Shop
Samsung Mobile Repair
Mobile Repair Shop Near Me
Mobile Repair Near Me
Mobile Phone Repair Shop
Samsung Mobile Service Centre
Nearest Samsung Servicing Centre
Samsung Mobile Servicing Center Near Me
Samsung Phone Service
Samsung Repair
Authorised Mobile Service Center
Authorised Samsung Mobile Service Center
Samsung Screen Repair
Repair My Mobile
Cracked Phone
Best Mobile Repair Shop Near Me
Authorised Samsung Service Center
Nearby Samsung Service Centers